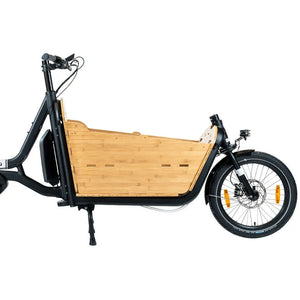 Bringing beer kegs, blankets, boogie boards and bambinos to the beach is a breeze with this 4-sided Bamboo Box for the Supercargo. Bring everything and the kitchen sink.
3-ply Bamboo
Hardware included
Base Board sold separately
2-Year Warranty
Bamboo Base Board required for installation.
Yuba uses 3-ply Bamboo for their accessories because it's durable and sustainable.  Bamboo requires less water and other resources to reach maturity and grows quickly.
All of Yuba's Bamboo products have been tested for hazardous or harmful chemicals in congruence with EU REACH regulations and passed with flying colors. Yuba are fully REACH compliant.