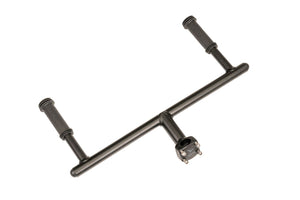 The Sidekick Joyride Bars provide protection and stability for GSD and HSDpassengers. Pair with the Captain's Chair to create a comfy seating solution for a big kid or adult passenger. Use the same setup to carry crates and boxes for the grocery run.
The Sidekick Joyride Bars are a handhold component of the Passenger System. Other accessories are required in order to safely carry passengers.
Provides protection and stability for passengers seated in the Captain's Chair
Ergonomic grips for extra comfort
Extended side rails for hand protection
Offers space for crates and boxes, when paired with the Captain's Chair
Note for shorter riders: Adding the Sidekick Joyride Bars may increase the minimum height of the saddle. In addition, passengers may require the Sidekick Joyride Bars at a higher position.