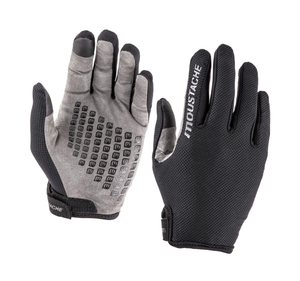 A breathable glove, that perfectly expels perspiration and dries quickly.
As well as being super lightweight, it has flat stitching for optimal comfort. It will fit your hand like a second skin. Silicon graphics on the palm ensure you can keep an optimal grip on the handlebar.
And thanks to its compatibility with touch screens, you will be able to use your telephone without taking your gloves off.
Natural feeling for these ultra-lightweight and thin gloves
Excellent ventilation and sweat wicking with exterior material in mesh stitching
Optimum comfort thanks to the flat stitching
Excellent grip ensured by the silicon graphics on the palm
Wrist adjustment with its velcro strap
Index finger and thumb compatible with touch screens
Available sizes: 7, 8, 9, 10, 11
Comfort: palm in Nano Clarino® and flat stitching
Compatibility: thumb and index finger with conductive surfacing for touch screens
Composition: 50% Polyester // 44% Nylon // 6% Polyurethane
https://moustachebikes.com/pdfs/textile_guide_des_tailles.pdf