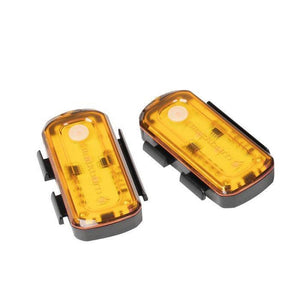 Being seen from all angles has never been easier, thanks to the Blackburn Grid Side Beacon Light Set.
A recent study by the US National Highway Traffic Safety Administration (NHTSA) showed 27% of bicycle accidents are side impacts and 30% of fatalities occurred at intersections (between 2010-2017).
The Grid Side Beacon was designed for use with head/tail lights to keep you more visible to drivers from a full 360 degrees.
It mounts to either side of your fork with reusable silicone straps and can be used as a stand-alone light, or as part of Blackburn's Luminate 360 Light Set. The weatherproof, rechargeable Grid Side Beacon set comes with eye-catching amber coloured LEDs and a dual headed charger, and it has a runtime of up to six hours for multiple days of commuting illumination.
Features:
Weight: 58 grams
Rechargeable Micro-USB charges via any standard USB port
IP standard IP-65 submersible – ingress protection rating or "IP rating," is a techy way to describe the level of water- and dust-proofness of a product. This light meets the IP-65 standard, which means it is totally protected against dust/grit and protected against low-pressure water jets from any direction
Lumen output / runtime: High/solid 85 lumen, 1.5 hr runtime; low/solid 50 lumen, three hour runtime; high/flash 85 lumen, three-hour runtime; low/strobe, 50 lumen, six-hour runtime