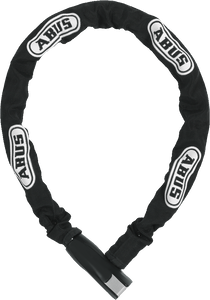 LIGHT, FLEXIBLE AND SECURE
Due to its flexibility chain locks are one of the most popular bicycle locks among cyclists. The Steel-O-Chain 8807 convinces with high flexibility and good safety.
The biggest advantage of this lock, as with all chain locks, is its flexibility. It can be easily connected to virtually any object, even in the smallest of spaces. Whether bicycle racks or street lamps, the Steel-O-Chain 8807 offers maximum flexibility with a length of 110cm
At the same time it offers high comfort with its automatic cylinder. This means that it locks as soon as the end piece is inserted. Active locking with the key is not necessary.