Cycling on the increase in Christchurch
Christchurch is a great place to ride a bike.
Christchurch City Council reports that over the last seven years the of people riding bikes in the city has increased by 30%.
The council has recorded a 6% increase between May 2023 and May 2022, and an impressive 11% jump from the first quarter of 2022 and 2023.
But numbers don't tell the whole story. The council has also released a fantastic timelapse video of the morning bike commuters going past the Brougham and Strickland Street intersection of the Quarryman's Trail Major Cycle Route.
It's great to see so many people commuting by bike, and they are on every kind of bike you can imagine, road bikes, mountain bikes, commuting/touring bikes and of course just as big a variety of ebikes.
For a bit more of a personal take on the growth of cycle commuters around Christchurch, check out this short film by local film makers Frank Films.
Here at Christchurch Electric Bicycles, we are really proud to have helped with the filming.
The bits of the film that were shot on the move on a cycleway were done on a cargo bike that we supplied.
They used a Yuba Spicy Curry electric cargo bike which was a great platform for their needs. It's got a 26" front wheel, so it rides and steers a lot like a normal e bike, but a 20" rear wheel, which is really strong, and lowers the rear cargo area for extra stability and cargo carrying capacity. With a maximum load capacity of 200kg, and plenty of grunt from the electric assist, it's an awesome cargo bike for doing the shopping, carrying the kids, or even a cameraman and camera!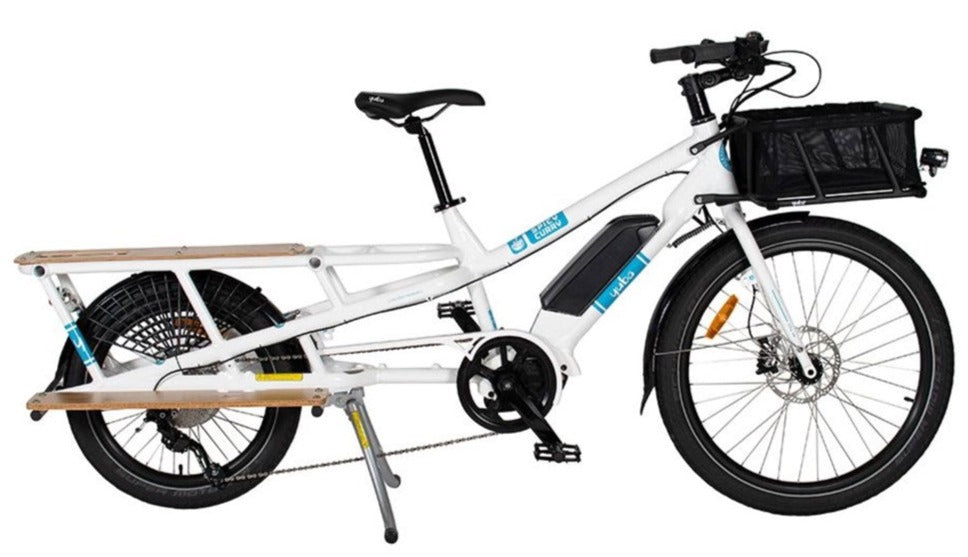 One of the bikes featured in the film is from us too, the black Riese and Muller Load 75 cargo bike with the dog in the front. These are a very popular Dutch style cargo bike where you carry the load in front of you, which makes it easy to keep an eye on it (great for dogs and kids)! If you are looking to buy Reece and Muller electric cargo bike, you'll need to be quick. Whenever we get new stock in it doesn't take long to sell out.
Catch you out there on a bike sometime.
The team at Christchurch Electric Bicycles