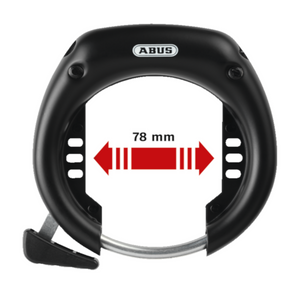 SHIELD™ PLUS 5750L QUICK, PRACTICAL AND ALWAYS RELIABLE
One grab, one click and your bike is locked – with the reliable protection of an ABUS lock.
Frame locks are the basic protection of your bike. If you're just popping into the bakery, they are a practical way to protect your bike from quick theft in one easy step.
Just like our SHIELD™ Plus 5750L. It is made of hardened special steel and the shackle offers a thickness of 8.5 millimetres. The extra large inner diameter allows the lock to be fitted to two-wheelers with tyres up to 70 mm wide.
8.5 mm thick locking shackle

The shackle, the case as well as supporting elements of the locking mechanism are made of specially hardened steel

Accessories can easily be fitted to the locking mechanism on the lock housing

The R (key retaining) version holds the key when the lock is open, the NR (non key retaining) version allows taking the key out of the cylinder

ABUS Plus cylinder for high protection against manipulation attempts, e.g. lock picking